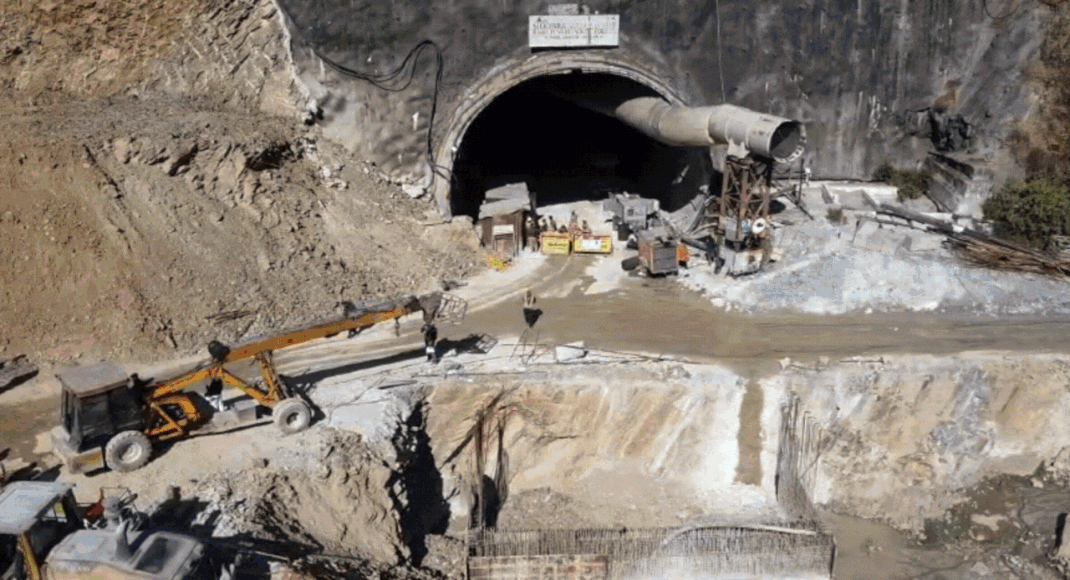 UTTARKASHI
:
The 41 workers stranded in the depths of the Silkyara tunnel in Uttarkashi are finding the daunting conditions getting more challenging with every passing day. On Monday, while talking to officials through a narrow pipe, the labourers expressed both desperation and hope, pleading for swift rescue. The poignant conversations they had with Arun Kumar, a representative of the Uttar Pradesh government, captured their plight and the sense of urgency and despondency creeping in.
Kumar visited the tunnel site in Uttarkashi on Monday and interacted with the trapped workersbelonging to the neighbouring state.Among the workers stuck inside the Silkyara tunnel, eight are from UP.
Motivating the stranded persons, Mishra said, "Don't worry and stay strong — the entire country is praying for all of you. The rescue operations will be soon successful and we will go back home together."
During the conversation, Akhilesh Kumar, one of the workers from UP, said, "We are getting food, but all of us are in bad condition. What is the progress of the rescue work? Please take us out quickly. It is getting harder and harder with each passing day."
Kumar also inquired about the progress of the rescue operations and pleaded with the official to evacuate them at the earliest. Another worker, Ram Sundar, said, "Tell our families not to worry and take care of themselves."
Audio recordings of the interaction were also shared with the family members of the workers "with an intention to reduce their pain and to provide them assurance regarding the well-being of their loved ones," Mishra told TOI.
Amid ongoing rescue operations, governments of different states have sent their representatives to maintain coordination with rescue agencies, trapped workers and their families. Mishra is one of the officials who was sent to take stock of the situation.
"We're going to get those men out…" Top Intl Tunnelling Expert joins rescue effort in Uttarkashi
Akhilesh Kumar, one of the workers from UP, also inquired about the progress of the rescue operations and pleaded with an official to evacuate them at the earliest. Another worker, Ram Sundar, said, 'Tell our families not to worry and take care of themselves'
Watch Uttarkashi Tunnel Collapse: Lifeline reaches trapped workers, rescue to go "with full force"