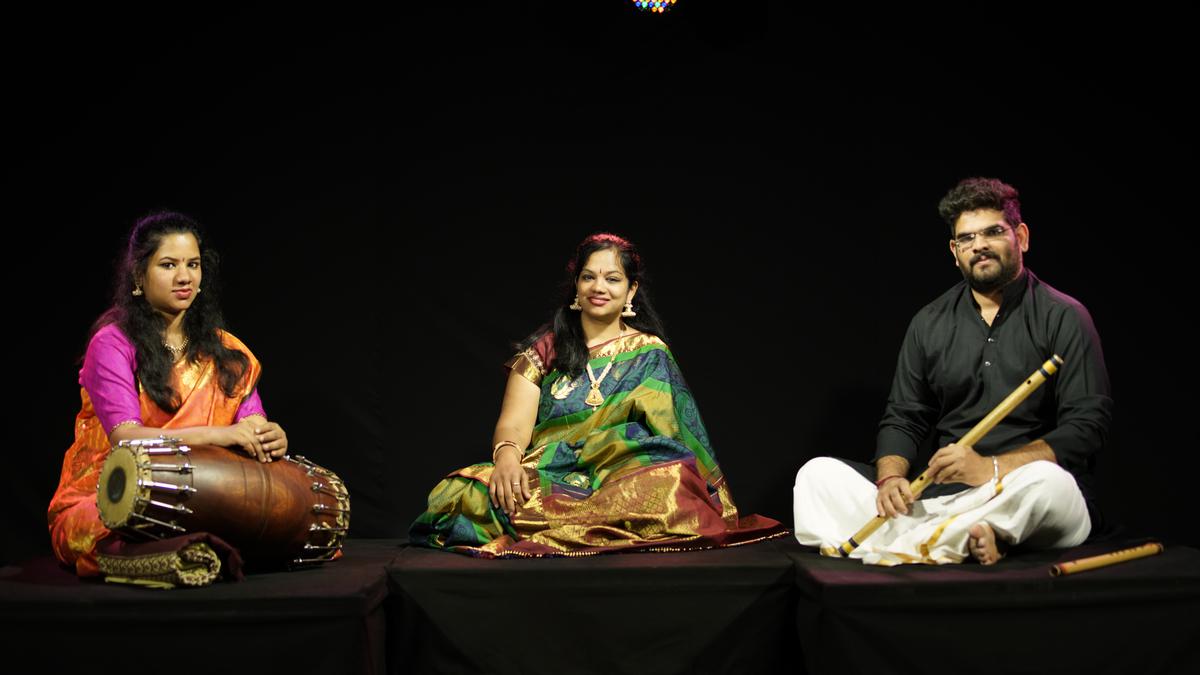 Vocalist Krithika Sreenivasan and her mridangist sister Deepika are both happy that the two-part series of the duo's Kannada Kavya Kamanabillu streamed on YouTube has had an overwhelming response. The recently launched programme musically presents and discusses classics to help laymen understand Kannada poetry in its entirety
"We had dealt with lyrics of Kannada poets starting from Adikavi Pampa to modernists DV Gundappa and Pu. Ti. Narasimhachar. Since scholars and the musically inclined have appreciated this effort of the novel documentation of poems, I would like to take up Mahila Haridasas' works in my third series," says Krithika.
Mahila Haridasas' compositions, she says, have often been under-utilised from the Dasa pantha repertoire for various reasons. "This series on Mahila Haridasas, to be released by the year-end, will give a brief insight into the life and works of women composers and will be followed by a presentation of one of their compositions."
Given Krithika's musical and literary family background, the challenge was in having classical poems explained and presented in melody. "I come from a family of musicians and academicians and I wanted Kannada Kavya Kamanabillu to encompass this richness."
"My father, ML Sreenivasan, a microbiologist, practices the flute and my mother, Geetha Sreenivasan, an English professor, translator and writer, is a vocalist and sitarist. My sister, Deepika, who is a mridangist, receives advanced training from vidwan Patri Satish Kumar, while I continue to receive advanced guidance from senior vidwans such as Anoor Ananthakrishna Sharma and Chitravina Ravikiran," says the software engineer turned Education Manager at the Indian Music Experience (IME) Museum in Bengaluru.
Krithika's grandfather, Dr CN Ramachandran (Dr. CNR), renowned litterateur, has been the biggest inspiration behind choosing Kannada literature for Kannada Kavya Kamanabillu. "My grandfather's deep dive into Kannada classical poetry through different eras, paved the way for us to explore facets of Kannada poetry. Apart from CNR, Dr. BA Vivek Rai has also helped us with the selection of padyas for our video project."
Kannada poetry is not unusual on concert platforms, says Krithika. "There are so many unexplored facets. While Kannada literature boasts a rich repertoire, of which Haridasa compositions form a major part, they are not the only metrical forms to represent Kannada poetry as is the general perception. Apart from Haridasa compositions, from the classical period to modern, we have variants of metrical forms such as Vrutta, Vachana, Tripadi, Kandapadya, Ragale, Shatpadi, Ugabhoga, Sooladi, Mundige, Tatvapada, Sangatya, Rangageethe, Bhavageethe and Kagga to name a few."
While some of the metrical forms, Krithika says, are usually not sung, it is not restricted from being presented on a Carnatic platform. "Being performers, our vision, through Kannada Kavya Kamanabillu is to bring these classical verses out of textbooks to concerts, in an accessible format. We have only presented an illustrative example of each of the poets. Kannada poetry remains largely unchartered as far as creative exploration goes."
There is a presentation at the Karnataka Ganakala Parishath Conference in November 2023, which, Krithika says will trace the history of Kannada poetry. "There will also be a presentation of a few verses I have composed. Last year, we had presented a concert at the Bangalore Gayana Samaja, Kannada Kavya Kacheri that included a presentation of Kannada poetry as a concert. It included various compositional formats such as varna, kriti, raga tana pallavi, tillana etc, with no compromise on manodharma elements."
The intent, Krithika says, is two-fold. "To engage the audience in a study of Kannada poetry in a fun way and to enhance the classical music concert repertoire with hitherto unused lyrical forms."
As far as poetry is concerned, Krithika says, the three distinct periods of Kannada poetry — Classical, Medieval and Modern — have differing features of composition. "Classical poetry is narrative, while medieval poetry is both narrative and descriptive. Modern poets are mostly descriptive and detail ephemeral experiences."
The lyrics, Krithika says, offer different perspectives, both literary and musical, to interpret multiple musical genres. "It is said that one's mother tongue is the most musical to one's ears. We are simply trying to explore that axiom. Without taking away from the brilliant legacy of Carnatic music, it is wonderful to be able to sing in one's language."
Through the two parts of the project the sisters have covered a number of poets and the response, Krithika says, has been encouraging. "Senior musicians such as Dr TS Satyavati and Dr RK Padmanabha shared their appreciation for our presentations. We had to weigh the usage of certain ragas for specific compositions. It has been one rewarding creative journey so far. These first two parts were also aired on Kannada Digital Radio — Namm Radio, and All India Radio (Prasarbharati) as weekly episodes. They are also available on the Youtube channel Kannada Kavya Kamanabillu.