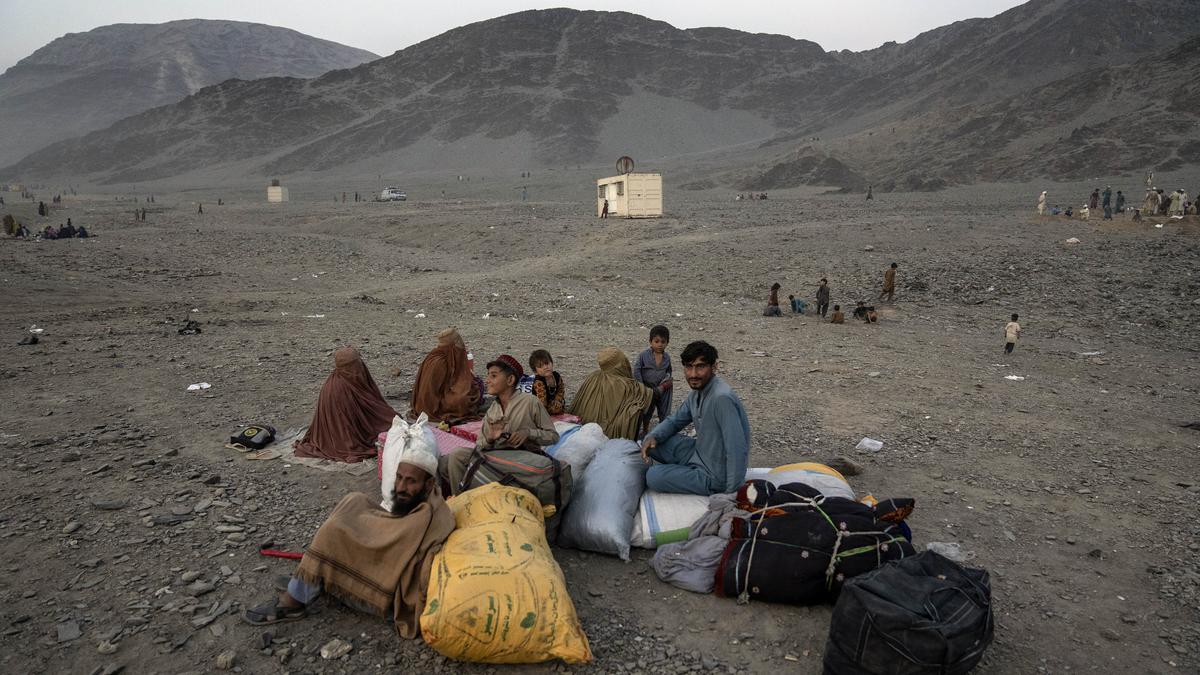 The story so far: On October 31, the Torkham Crossing — five kilometres west of Khyber Pass, on the border connecting Pakistan's Peshawar with Afghanistan's Jalalabad — saw a sudden influx of at least 24,000 Afghan refugees packed in trucks and convoys, with whatever luggage they could take from demolished homes. Some crossed over, while others were stranded, unclear about where to go.
The mass exodus was triggered by an order from Pakistan's interim government asking 'illegal refugees' to leave the country by October end, or face deportation. The new anti-immigrant policy comes beforethe general elections next year, when hyperinflation, political instability and rising crime rates are expected to dominate voter issues.
The United Nations called the decision a 'human rights catastrophe' which, if not stopped, will put hundreds of thousands of refugees who fled persecution in neighbouring Afghanistan at 'grave risk.'
Who is Pakistan deporting?
A few days before the October 31 deadline, Pakistan's acting interior minister Sarfraz Bugti told reporters, "There will be no compromise against illegal refugees… We are going door to door, and we have done geofencing. We will detain and deport them."
'Them' here refers to the almost 17 lakh people living in Pakistan with no legal documentation, a large number of whom are Afghans who sought refuge in the country after fleeing persecution in a war-stricken Afghanistan. Human rights agencies estimate that about 60% of Afghan refugees in Pakistan are undocumented, and say the decision will worsen the trend of arbitrary detentions and harassment Afghan migrants have faced over the last two years.
Almost two lakh refugees have 'voluntarily' complied with the October expulsion orders, Mr. Bugti said, some using the Torkham stretch while others used the Chaman crossing in Balochistan. The exodus started as a trickle, with authorities seeing 300 people a day at the outset; this has now increased to more than 10,000 arrivals per day, aid agencies said. Authorities reportedly demolished the houses of Afghan nationals living in illegal settlements, leaving many stranded and fearing arrest. Rights groups allege the police have harassed and illegally detained all migrants, with or without documentation, under the guise of implementing its new anti-immigration policy.
Pakistan's Afghan refugee population
Government figures show Pakistan is home to about 40 lakh refugees and migrants. As of June this year, Afghan refugees number above 13 lakhs, forming a large chunk of the immigrant pool.
The migration of Afghan nationals to Pakistanhappened in waves. The most recent wave was in August 2021 after the Taliban came to power, compelling some six lakh people to flee persecution in their home country. The starting point of steady migration along this route dates back to 1979 when the Soviets invaded Afghanistan; families fled to neighbouring Pakistan andbuilt lives, livelihoods and families there. "I was born and raised in Pakistan. All my siblings were born here…Pakistan is now home, not Afghanistan, and we will be refugees there," Mir Agha, a 23-year-old who was forcibly deported, told The Guardian this week.
Afghan refugees require a Proof of Registration (PoR) card to legally remain in Pakistan. The route to a PoR is, however, barricaded by an onerous bureaucratic regime, paperwork and interminable delays. Many find their visas have expired while undergoing the registration process. Amnesty International flagged that the delayed process and expired visas amplify the legal vulnerability of Afghan refugees.
During the current exodus, Mr. Agha's proof of refuge card issued by the UNHCR was "scissored by the police" after arrest, he told a reporter. As things stand, Afghan nationals in Pakistan are caught in an "impossible situation," as Dinushika Dissanayake, Amnesty International's Deputy Regional Director for South Asia, has previously highlighted. People were uprooted and forsaken by a home they had been born into, and a home they had sought out of necessity. "Their ambiguous legal status and arduous processes for asylum or third-country relocation have made them even more vulnerable," she added.
The UNHCR in February 2023 renewed its non-return advisory, first issued in August 2021, barring a forced return of Afghan nationals and asylum seekers whose claims were rejected. The alarm bells ring louder for minorities, women and journalists who are being forced to return to a country languishing under the Taliban regime. "This would particularly put women and girls in grave danger as they would be exposed to persecution and other serious human rights violations simply because of their sex and their gender. For an overwhelming majority of them, living and studying in Pakistan may be their only chance of gaining a formal education," Amnesty International said in a statement. Since August 2021, the Taliban has imposed bans on young and unmarried women from accessing health centres, schools and universities, public spaces, or pursuing means of employment.
Also vulnerable are those who worked for the U.S., the U.K. and other Western countries before the Taliban took control of Afghanistan. Currently, two Afghan families awaiting transfer are suing the British government for not doing enough. Washington has asked Islamabad "to ensure the protection of Afghan refugees and asylum seekers, including those in the U.S. resettlement and immigration pipelines," per an NPR report.
Afghanistan's fragility compounds the refugees' struggle. Taliban's human rights violations aside, food insecurity, earthquakes and economic woes further ail the nation. Philippa Candler, the UNHCR representative in Pakistan, told the BBC that a series of devastating earthquakes have "heavily" impacted the situation. "On top of that, winter is approaching so it's not the best season to have people going back to a country that is already in a very fragile situation," she said.
The Taliban has criticised the decision and asked for more time; in the meantime, it has prepared temporary refugee camps equipped with water, food, and health facilities and said it would help refugees find jobs, per media reports.
"Afghan refugees' lives and rights are at stake due to the collective failure of the Pakistan Government and the international community to share the responsibility for their protection. This is simply unacceptable."Deprose Muchena, senior director of Amnesty
Is the deportation legal?
The Dawn reported that some human rights activists and politicians challenged the "mass deportation" before the Supreme Court this week. The forceful detention and harassment are illegal, unconstitutional and violative of people's fundamental rights, their petition argues. The government has "failed to distinguish between birthright citizens and illegal immigrants," as the law grants those born in Pakistan a claim to birthright citizenship, it says. For others, it has urged the Court to allow aid agencies to expeditiously process registration applications.
Rights groups have also urged Pakistan to "stop the crackdown against, and harassment of, Afghan refugees across the country" in keeping with international legal obligations. Under the principle of non-refoulment, the United Nations specifies that countries are forbidden from directly or indirectly forcing people from returning to a place of persecution, "where they would face torture, cruel, inhuman or degrading treatment or punishment and other irreparable harm" and this principle "applies to all migrants at all times, irrespective of migration status." 
Why did Pakistan announce deportation?
Pakistan says it is operating from a place of self-preservation — to protect its economy and national security. The cash-strapped government has struggled to stabilise a collapsing economy, as a depreciating rupee, plummeting foreign exchange reserves and inflation add to people's woes. Critics fear Pakistan's worsening political crisis — marked by a power tussle between the military and civilian government — will further stir the economic pot. The present caretaker government, led by interim Prime Minister Anwaar-ul-Haq Kakar, is expected to remain safe from any fallout from contentious immigration or economic policies, as Mr. Kakar is perceived to be "closer" to the military.
Hameed Hakimi, an associate at Chatham House, told a media outlet, "From a domestic socio-political and security environment point of view, this is the time for the state to show that it's doing something about it. And the refugees seem to be a natural target…."
While announcing the deportation, Mr. Bugti also linked the migrant population with crimes and drug trafficking. "There have been 24 suicide bomb attacks since January this year and 14 of them were carried out by Afghan nationals," he said. Terror-related incidents peaked in 2022 and 2023, with deadly suicide bombings in the Khyber-Pakhtunkhwa region and a mosque in Peshawar. Mr. Bugti implied a linear relationship between the flow of Afghan nationals and crime rates; however, analysts attribute the violence to Pakistan's 'dual policy' of supporting some terror groups for geopolitical goals. The "terror triad", as researcher Imtiaz Gul called it in an article, plays out between Tehrik-e-Taliban Pakistan (TTP), the ethnic Baloch Liberation Army (BLA) and the Islamic State of Khorasan Province (ISKP) — with Pakistan tailoring its war on terror depending on the militant group. Pakistan's relationship with the Taliban regime has also deteriorated as the TTP leadership, which plotted the Peshawar attacks on Afghan soil, enjoys freedom in Afghanistan.
Research has made tenuous links between refugee intake and crime rates: a 2021 study highlighted that it is often the host countries' attitudes about foreigners and the economic conditions that shape domestic terrorism risks.
Also Read | Pakistan's internal challenges, shifting dynamics
Political analysts argue that Afghan refugees are being 'scapegoated' for the government's collective failure to take responsibility for Pakistan's economic and security woes. "To deflect blame from the challenges that the government or the country overall is facing, they always raised the issue of illegal immigrants chiefly from Afghanistan," Mr. Hakimi noted. This 'blame game' is used as a fig leaf, indicating that "the country's problem largely arises from neighbouring countries instead of focusing internally on their own government's policies."
Pakistan had previously censured Western countries for a lack of effort and initiative to support Afghan refugees for their return. Rights groups and aid agencies note that in addition to the government, the international community has also defaulted on its responsibility to protect refugees who find themselves at the centre of Pakistan's turbulent triad of economics, security and politics.
Fortyt-seven-year-old Khair Muhammad, who was "harassed" and forced out of his rented house in Dina, told Al Jazeera: "I am tired. How many times do I have to move countries to protect myself and my family?"