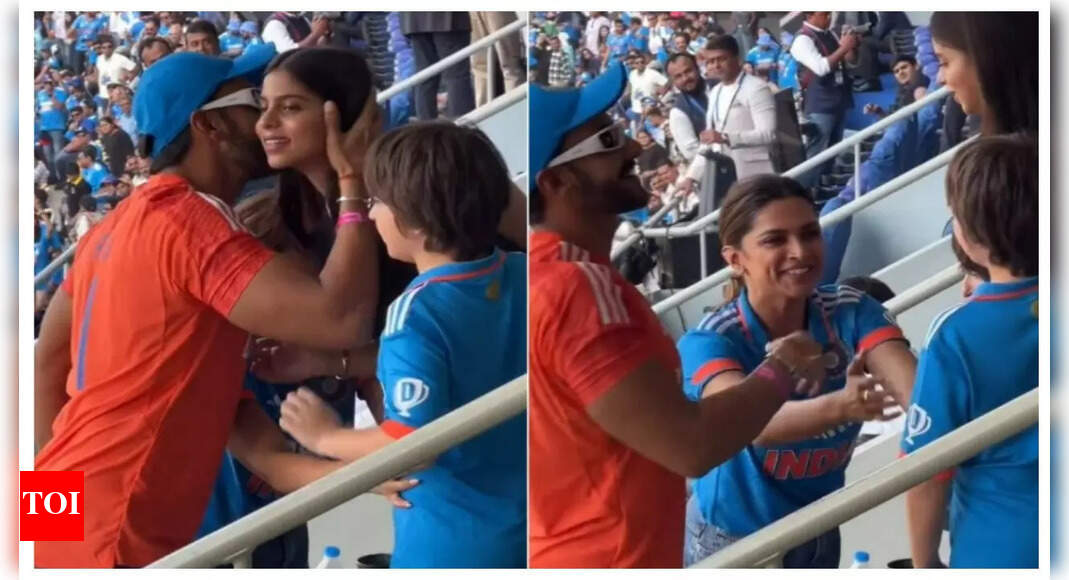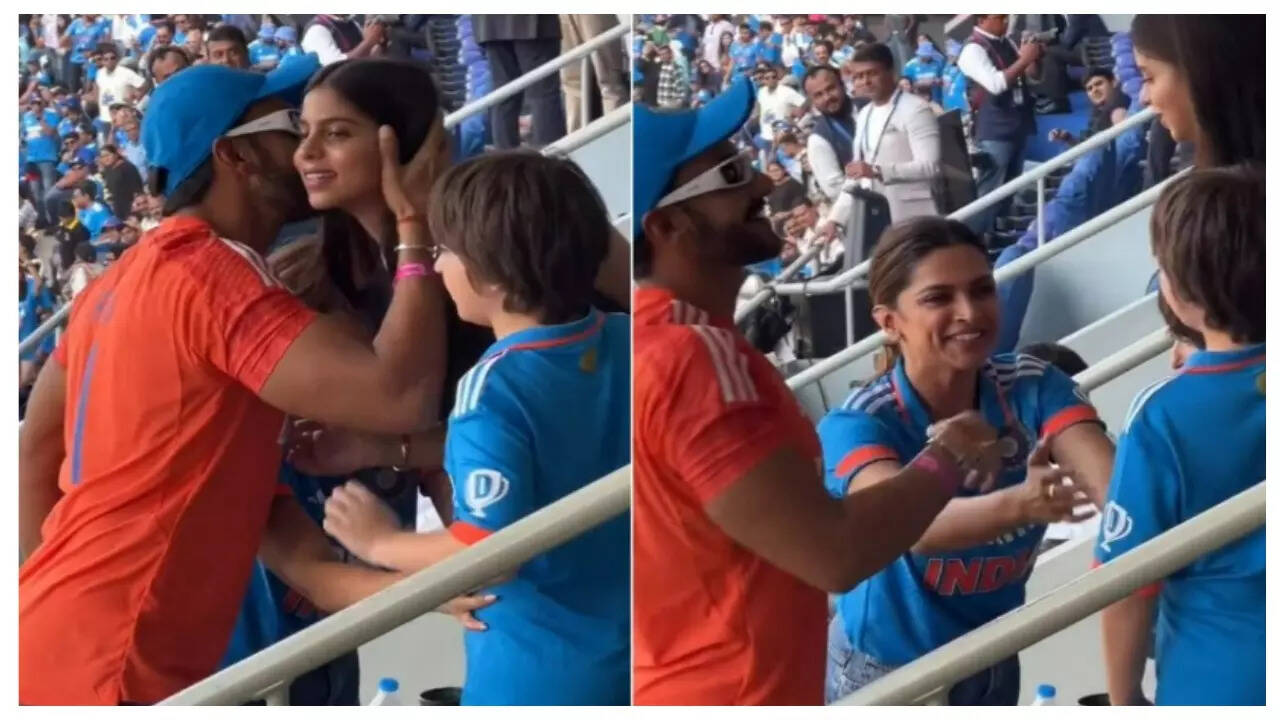 At the World Cup 2023 final in Ahmedabad, a video capturing a heartwarming moment is making rounds on social media. The footage shows Deepika Padukone and
Ranveer Singh
extending warm greetings to
Shah Rukh Khan
and Gauri Khan's children, Suhana Khan and AbRam, as the celebrities came together to support Team India at the grand event.
In a video shared by Deepika Padukone's fan page, the actress and RanveerSingh are seen engaging with Shanaya Kapoor initially.
As Shanaya departs, Suhana Khan and AbRam Khan, the children ofShah Rukh and Gauri Khan, approach Ranveer and Deepika for greetings. Ranveer affectionately kisses AbRam's forehead and shares a warm hug with Suhana. Simultaneously, Deepika enthusiastically converses with AbRam, who playfully waves at her. Deepika then plants a kiss on AbRam's cheek before turning to engage with Suhana. The video also captures a moment of Ranveer hugging Shah Rukh Khan during the course of the match.
Deepika Padukone donned a Team India jersey paired with jeans, while Ranveer Singh was spotted in an orange jersey. Suhana Khan opted for a fitted navy blue crop top with baggy jeans, and Shah Rukh Khan wore a white tee layered with a navy blue jacket.
Here's how Shah Rukh Khan reacted when Anant Ambani dropped a snake on his hands
The World Cup 2023 final match, attended by celebrities like Anushka Sharma, Ayushmann Khurrana, Athiya Shetty, Vivek Oberoi, Daggubati Venkatesh, and Asha Bhosle, saw India facing a defeat against Australia by 6 wickets. Despite the loss, prominent figures like Shah Rukh Khan, Ranveer Singh, and Vicky Kaushal praised Team India for their commendable performance throughout the tournament.
In a tweet, Shah Rukh Khan expressed his admiration for the Indian cricket team, praising their honorable performance throughout the tournament. Despite the unfortunate outcome in the World Cup 2023 final against Australia, Shah Rukh Khan commended the team for their spirit and tenacity. He emphasized the essence of sports, acknowledging that there are days when things don't go as planned. Shah Rukh Khan extended gratitude to Team India for upholding the nation's proud sporting legacy in cricket and thanked them for bringing joy and pride to the entire country.