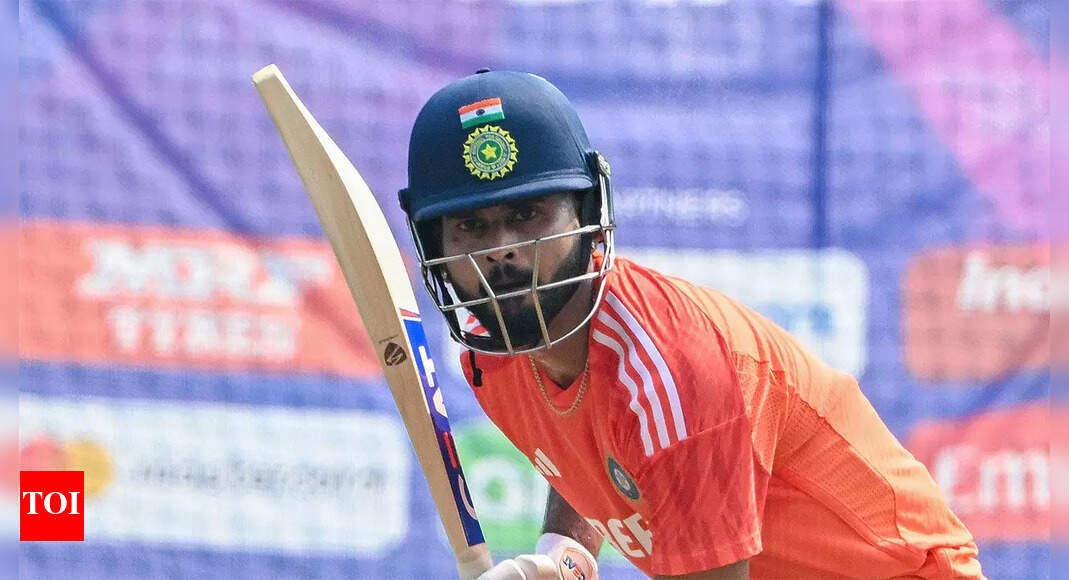 Struggling India No. 4 tries to iron out his frailties against bouncers in the nets ahead of Sri Lanka game
MUMBAI: Was it by design? At the Team India optional nets, two days before their World Cup encounter against Sri Lanka at the Wankhede Stadium on Thursday, the first three to take strike were
Suryakumar Yadav
and Ishan Kishan with Shreyas Iyerbatting in the throwdown net, some distance away, towards the Vijay Merchant Stand.All three swapped positions soon.
Other members who attended Tuesday's training session were
Ravindra Jadeja
, R Ashwin, Shardul Thakur, and KL Rahul. Some of them even batted and bowled in a game of mock cricket with the kids for UNICEF.
Shreyas Iyer – India's rock in the middle order
Back to Iyer, Surya, and Kishan.
All three know they are battling for one spot once allrounder Hardik Pandya, who injured himself in the match against Bangladesh in Pune, on October 19, gets fit again.
Of the three, only Iyer has featured in all the six games of India's so far unbeaten campaign, with modest returns, despite looking good before a bout of impetuosity against the short ball has consumed him. Surya's mature 49 against England to rescue the team from a sticky position and Kishan's left-handedness in a right-hand dominated top six, could go in their favour if the management decides to look elsewhere.
On Tuesday, Iyer trained with throwdown specialists Nuwan Seneviratne and D Raghavendra and other net bowlers and a lot of the focus was on him tackling deliveries that were short, either chest-high or head high.
Despite bowling coach Paras Mhambrey yelling out, "last round, Shreyas" after a 45-minute first stint across three nets, Iyer returned for another session to tackle the short ball. This time head coach Rahul Dravid too gave him pacy throwdowns from a shorter distance.
The man, who India have banked upon to take over the much-debated No.4 slot (no Indian player has batted there as many times as Iyer since the 2019 World Cup ended) looked to be in no trouble defending and while turning the ball off his hips.
However, while attempting the aggressive stroke, he skied a few.
Just like the Mumbai batter's last two dismissals, vs New Zealand at Dharamshala and vs England at Lucknow. It has triggered fresh doubts about whether the batter, who has a neat ODI record of 1935 runs in 53 ODIs at an average of 45, and a strike-rate in the mid-90s, is uncomfortable with short, pacy deliveries.
The compulsive pull has been attempted, like some of his dismissals in the red ball game, leading to the dreaded walk back.
India vs England: Indian top order collapses as Virat Kohli is out for a duck, Rohit Sharma leads fightback
One miscued pull even prompted R Ashwin, batting in the adjacent net, to have a chat with him. One of the deliveries even reared from a length and hit Iyer on the gloves, which caused him to pull them off and take a long look at his hands. Another injury? Surely not? A nod to the support staff indicated all was well. The net resumed. Short, pulled. Short, flicked. Short, ramp attempted, but missed.
On the way back to the change room, he earned a pat on the back from the support staff. Full marks for effort, the gesture indicated.
Now it's about execution.
On his home turf, at the Wankhede, where a red-soil pitch with decent grass covering (at least two days prior to the game), stared at him, from the nets, Iyer knows that Sri Lanka will also target him through Dilshan Madhushanka and Dushmantha Chameera.
Perhaps he can pay heed to the words of former India opener Gautam Gambhir. While analysing Iyer's issues vs the short ball, after he fell to Chris Woakes against England, Gambhir while speaking to Star Sports stated, "Practising in the nets doesn't mean he becomes compulsive. Somewhere, he is becoming compulsive. He is waiting only for the short ball, rather than looking to go forward and then pull it. And pull it at a height that you can control. Today also you see, he wanted to pull everything, which you can't against quality international bowlers."
Gambhir also stated that Iyer would be better off not always taking the attacking option. "He is thinking everyone is going to bowl short and I am going to take them on. There is no ego in batting, you can't be good at everything.".
Perhaps a subtle reminder from the dressing room that a bowler can only bowl two short balls an over, or a chat with the modern master of the pull, skipper Rohit Sharma, may be the order of the day for Iyer.