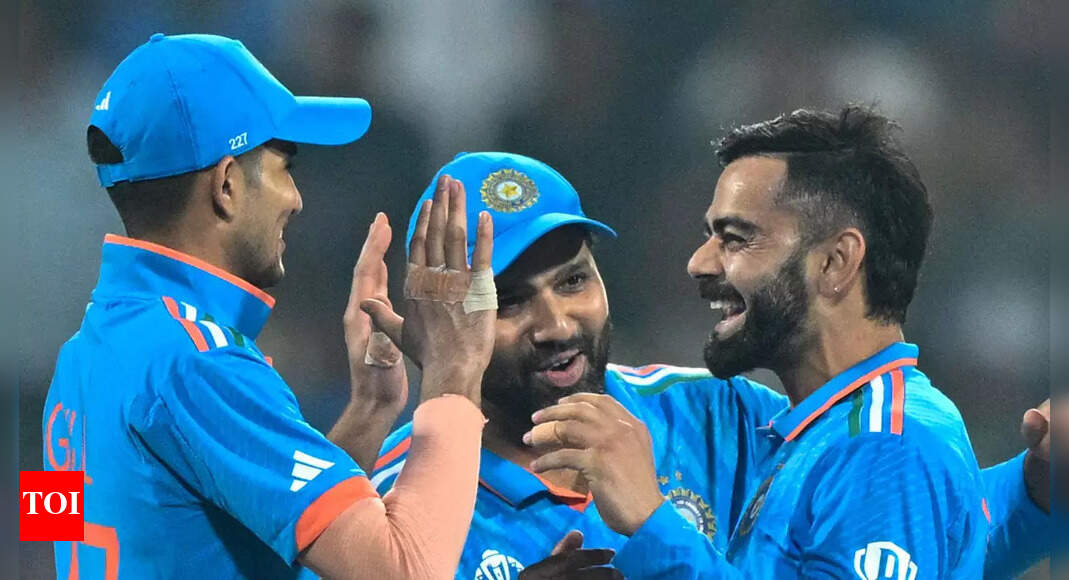 MUMBAI: A noted home-made ice-cream parlour sells a flavour called assorted here. In steamy, sticky conditions that this throbbing metropolis always greets you with, it's quite in demand as you get a big bowl and are served small scoops of all flavours in it, without having to pay for all the flavours.
If you look at India's top-order batting in this World Cup, it resembles that ice-cream bowl.You have a batter for each situation. Captain
Rohit Sharma
is an enforcer, who goes off in the powerplay with a devil-maycare attitude, pulling pacers, driving them over cover, flicking them over mid-wicket flamingo style with one leg in the air and slog-sweeping spinners. His 550 runs have come at an astonishing combo of average and strike-rate of 55 and 124.15 respectively with 28 sixes, and 21 of those have been struck in the powerplay.Rohit has scored one century, one 80-plus score, one 60-plus score and four forties. They've all been knocks high on adrenaline and impact, which have let opening partner Shubman Gill settle and then attack, and allowed
Virat Kohli
to do what he does best — drop anchor and either chase down the target, or bat deep while batting first and allow the other stroke-makers to bat aggressively around him.
That Kohli is sandwiched between Rohit and Shreyas Iyer adds to the solidity of the batting line-up as Iyer too has played with infectious fearlessness, as has No.5 KL Rahul.
Gill, who scored 80 in the 70-run win over New Zealand in the first semifinal at the Wankhede on Wednesday, explained his role when he opens alongside his skipper.
"Everything about him really impresses me. I just stand at the non-striker's end and learn in the powerplay. He plays 10 overs and I just get to play 15-20 balls and rest. Rohit comes and does his thing. Chauke chhakke maarte hain, main bas dekhta hoon (he hits fours and sixes, I just watch)," said Gill in the post-match media interaction.
Gill himself has scored his 350 runs in eight games at a strike-rate of 108.02, hitting 12 sixes in eight games. The learning for Gill doesn't just stop at Rohit. He really idolises Virat Kohli, who took another giant step towards becoming a cricketing deity by surpassing Sachin Tendulkar's tally of 49 ODI hundreds.
Rohit's aggressive starts have allowed Kohli to play a mentor's role for others in the line-up with lesser experience than himself. Gill is one of them, already a star, but on the way to carrying the baton of superstardom from Kohli.
"Every time he comes on to the park, he does something special and just how consistently he's been able to do it for the past 10-15 years is what is really inspiring," said Gill of Kohli. "It's not so much about the skill that he has, but more about the hunger and the intensity with which he plays.
"To be able to have that consistently for as long as he's been playing is what really inspires me," he added.
New Zealand captain Kane Williamson too admitted that it was tough to contain India as they came out with an attacking plan in their batting innings. He also hailed Kohli as "the best" batter in the world and warned others that he could be getting better.
"I think if you play 50 games, some people will call that a great career. But to get 50 hundreds…and not just that, the way he goes about it, it's actually about winning games for his team. I mean he's the best, isn't he? And he seems to be getting better, which is a worry for the opposition," Williamson gushed.
Iyer, who has played a Rohit-type role, but at No.4, seemed like he was playing golf and doing what batters do in the nets during T20 games — practise range-hitting. It helps of course to have a captain and coach that are firmly behind you and don't put your neck on the chopping block for playing one big shot too many and perishing
in the process.
He got back-to-back tons for India and his third after his comeback from injury. Rohit had alluded to that in his pre-match presser where he said his backing of certain players won't change depending on results.
After the game on Wednesday, he was all praise for his batters' attitude. "I am very pleased to see what Iyer has done for us," he said.
Iyer, after enduring a quiet time and falling to ungainly pull shots initially, has logged 526 runs at a strike-rate of 113.11 to become the first middle-order batter to score over 500 runs across all World Cups.