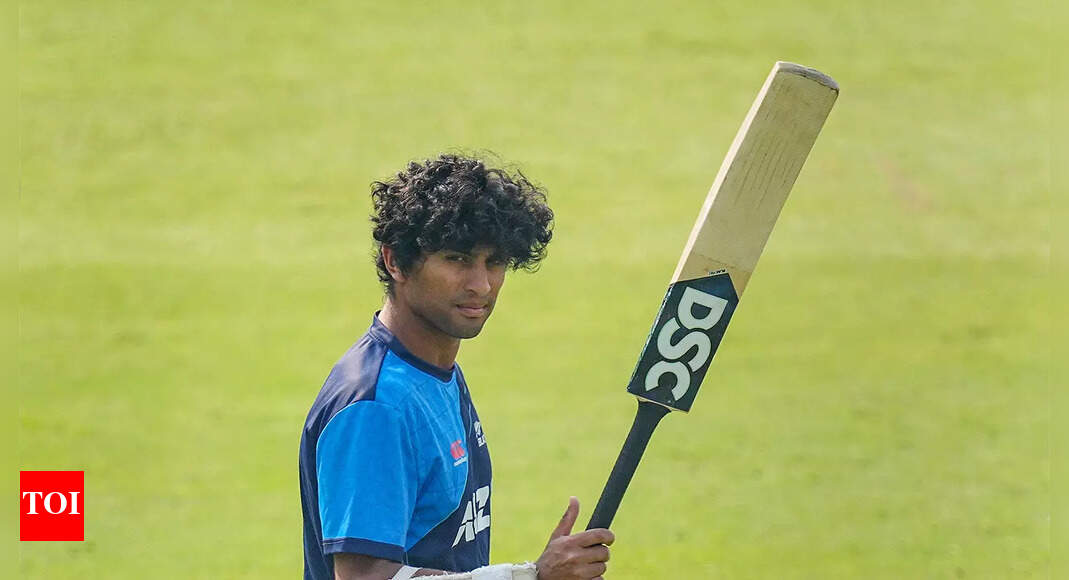 Fighting
New Zealand
look to avenge close loss in Rugby
World Cup
final by beating
South Africa
in cricket
PUNE: New Zealand and South Africa will be squaring up at the World Cup once again, this time on the cricket field.
Three days after the
Springboks
edged the
All Blacks
in a thrilling final to win the Rugby World Cup, the Kiwis get a chance to make amends when they take on the Proteas, although in a league game, at the MCA stadiumhere on Wednesday.Things haven't really gone New Zealand's way on the cricket field as well in the past two games, whereas South Africa's batters have been in rousing form, their brief stutter while chasing a relatively modest target against Pakistan in their last game in Chennai notwithstanding.
Nevertheless, Tom Latham's men remain one of the teams to beat in this tournament. The twin defeats in Dharamshala to India and Australia may have somewhat taken the wind out of their sails after a solid start, but they will take inspiration from their rugby compatriots as well as their own performances – especially from how close they came to overhauling a near-400 run target against their trans-Tasman opponents – when they face South Africa.
"Yeah, that was obviously a fantastic game of rugby. Obviously, unfortunate to be on the wrong side," stand-in skipper Latham told reporters on Tuesday.
"I guess you look at the All Blacks as a whole. They played some great rugby throughout the World Cup and Kiwi-wise, we love to scrap all the way. It's something we have talked about, a scrap right to the end, regardless of the situation. And I think we showed that the other night, as well as taking the game as deep as we can. If we can do that, that gives us a good chance."
The Dharamshala leg of the tournament should serve as wake-up call for New Zealand, for the simple reason that the losses came against quality opponents first true opposition they had faced for the first time in the World Cup.
And the two couldn't have been more contrasting.
First, they failed to put up a challenging total against hosts India. And in the second, they came up just short while chasing Australia's daunting target of 389. Latham, of course, looked at the positives. "Obviously disappointing to come out on the wrong side of it," he said of the match against Australia. "But I think if you look at the game, we did a lot, a lot of good things really well.
"We put ourselves in a position towards the end of the game, which is what you want in these World Cup games, to put yourself in a position where you can win. When you're chasing something like 400, you kind of need everything to go well. We were, you know, one shot away from being on the other side.
"Hopefully we can, I guess, put those learnings into practice tomorrow."
The pitch at Gahunje, not unlike other venues in the subcontinent, is known to be batter-friendly, albeit slightly on the slower side. The dew could make the bowlers' task under the lights a bit difficult, which was evident from Afghanistan's decision to field against Sri Lanka on Monday.
Irrespective of whether they set a target or chase one, New Zealand would be keen to pack in as much firepower in their batting as possible. Latham gave away very little in terms of captain Kane Williamson as well as Lockie Ferguson's availability. Williamson-who suffered a fractured thumb while batting in his return game against Bangladesh-went through some fielding drills and received some throwdowns near the boundary. It was the first time since the injury that he was having a go at the leather ball.
Ferguson picked up an injury during the match against Australia and failed to complete his quota of overs. Latham said that in the end everything came down to playing good cricket and not being carried away by what the opposition is doing-in this case, South Africa's powerful batting line-up.