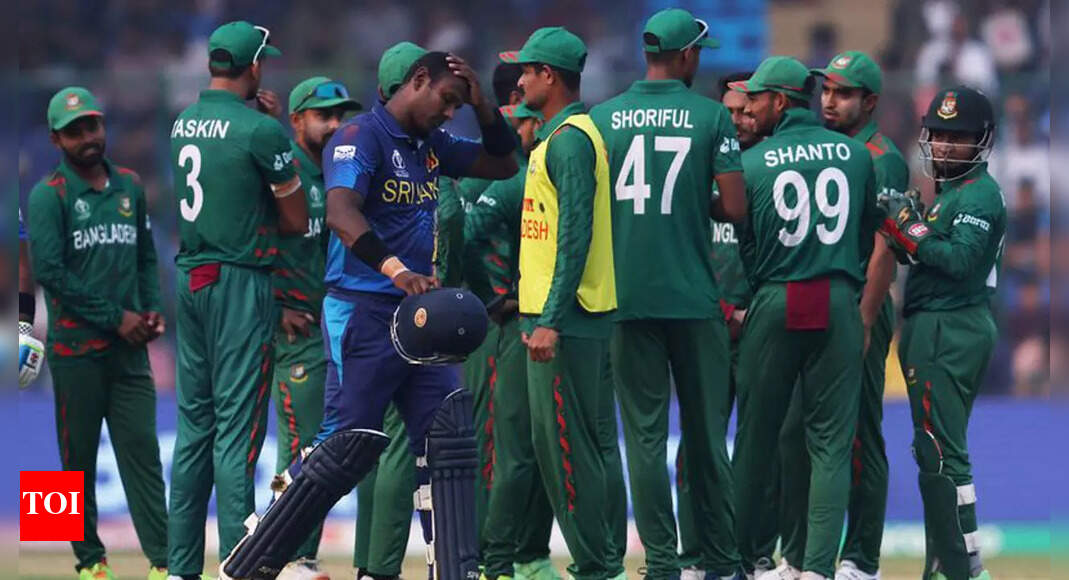 NEW DELHI: Sri Lankan batsman
Angelo Mathews
has taken to social media, demanding "justice" from the International Cricket Council (ICC), and labelling Bangladesh captain
Shakib Al Hasan
"a cheat." This follows a highly controversial 'timed out' dismissal during the
World Cup
that has set the cricketing world abuzz.
Mathews didn't mince words, making his feelings clear in a post-match press conference after the defeat that effectively ended Sri Lanka's hopes of progressing at the World Cup.He termed Shakib's appeal for the contentious dismissal "disgraceful."
The incident revolved around Mathews' failure to comply with the World Cup rule, which stipulates that a new batter must be ready to face a delivery within two minutes of a wicket falling. Mathews, however, argued that he had been ready with seconds to spare before the chinstrap on his helmet broke, necessitating a replacement.
Backing his position with time-stamped video screenshots, he stated, "Video evidence shows I still had five more seconds even after the helmet gave away! Can the fourth umpire rectify this please? I mean safety is paramount as I just couldn't face the bowler without a helmet. This is clear cheating; I want justice."
Contradicting Mathews' claims, fourth umpire Adrian Holdstock had a different perspective. He asserted that Mathews wasn't prepared to receive the ball within the mandated two minutes even before the strap issue came into play, emphasising that a batsman should ensure they are ready to receive the ball within the stipulated time.
The incident has ignited a fierce debate, with notable cricketers expressing their support for Mathews. Former cricketers, including Dale Steyn, Usman Khawaja, Gautam Gambhir, and Waqar Younis, voiced their discontent, with Younis stating, "That wasn't good for the spirit of cricket."
Former Indian cricketer Mohammad Kaif criticised Shakib for appealing for the dismissal and not reconsidering, even after being asked by on-field umpires. Kaif commented, "Shakib should believe in winning, but not 'winning at all costs.' That was shameful."
In defence of his actions, Shakib Al Hasan, Bangladesh's captain, stated in a post-match press conference that he had followed the rules and had no regrets. This stance found support from former England captain Michael Vaughan, who remarked, "It's utter nonsense talking about the spirit of the game, the umpire's got it right."
The incident has ignited a broader discussion about the balance between adhering to the rules and upholding the spirit of cricket in the modern game. It remains to be seen whether the ICC will address Mathews' demands for "justice," or if this controversy will persist during the remainder of the World Cup.
(With inputs from Reuters)
World Cup 2023: Bangladesh Secures Thrilling Victory Over Sri Lanka | Sri Lanka vs Bangladesh
Watch World Cup 2023: Angelo Mathews becomes first ever player to be timed out in cricket | Sri Lanka vs Bangladesh